Icon

61°

60°

61°

68°

71°

70°

65°

61°

Temperature felt (°F)

58°

60°

62°

68°

71°

69°

63°

58°

3-6

2-3

1-7

7

11

11-12

12

9-11

Precipitation (mm/3h)

-

-

-

-

-

-

-

-

Precipitation Probability

2%

0%

0%

0%

0%

0%

0%

0%

rainSPOT

Precipitation distribution within 15 km
Wetterbericht für Heraklion am Sunday
Nachts und nachmittags werden einzelne Wolken erwartet. Zu Tagesbeginn bleibt das Wetter klar. Es bleibt grossteils sonnig, vereinzelt Wolken. Der UV-Index beträgt 8. Es sollte auf Sonnenschutz geachtet werden.
Über den gesamten Tag weht eine mässige Brise. Es werden Windgeschwindigkeiten bis zu 12mph erreicht. Der Wind kommt nachts aus Süden und tagsüber aus Nord-Ost.
Die Wettervorhersage in Heraklion für Sunday ist stabil und sollte zutreffen.
Satellite cloud cover (past 2 hours)
SATELLITE_FOR_Heraklion_COPYRIGHT_2015_EUMETSAT
Current weather situation and warnings
Temperatures & pictograms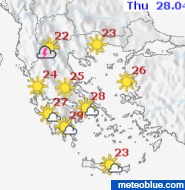 Cloud development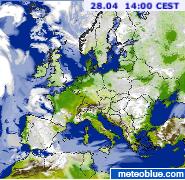 EUMETNET – MeteoAlarm
Source: HNMS
Time delays between this website and the www.meteoalarm.eu website are possible, for the most up to date information about alert levels as published by the participating National Meteorological Services please use www.meteoalarm.eu.