Icon

63°

62°

69°

63°

65°

62°

58°

Temperature felt (°F)

56°

56°

62°

54°

59°

56°

54°

9-18

9-17

13-22

15-21

7-13

11-15

7-11

Precipitation (mm/3h)

-

-

-

-

1

<1

-

Precipitation probability

0%

6%

25%

40%

73%

66%

40%

rainSPOT

Precipitation distribution within 15 km
Satellite cloud cover (past 2 hours)
This animation shows the cloud cover as observed by satellite. High clouds and clouds with vertical development are displayed in white, low clouds and fog in grey. Orange crosses mark places where lightning was detected (over Europe). The location marker is placed on Timişoara. This map uses infrared satellite telemetry to calculate the temperature of the clouds. Low clouds and fog are difficult to distinguish from ground temperatures and might therefore be inaccurate. Copyright 2015 EUMETSAT / meteoblue.
Radar and precipitation nowcast for Timişoara
The location marker is placed on Timişoara. This animation shows the precipitation radar for the last hour. Drizzle or light snow fall might be invisible for the radar. Precipitation intensity is colour coded, ranging from light blue to heavy purple. Copyright 2015 Meteo Romania / meteoblue
Current weather situation and warnings
Temperatures & pictograms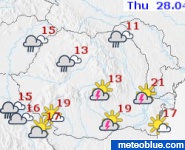 Cloud development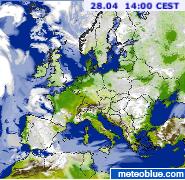 Time delays between this website and the www.meteoalarm.eu website are possible, for the most up to date information about alert levels as published by the participating National Meteorological Services please use www.meteoalarm.eu.