| | | | | | | | |
| --- | --- | --- | --- | --- | --- | --- | --- |
| | | | | | | | |
| Icon | | | | | | | |
| (°C) | 15° | 14° | 12° | 11° | 10° | 11° | 11° |
| (°C) | 12° | 12° | 9° | 8° | 7° | 8° | 7° |
| | | | | | | | |
| (km/h) | 12-15 | 6-13 | 11-26 | 11-23 | 10-28 | 14-40 | 21-48 |
Satellite cloud cover (past 4 hours)
This animation shows the cloud cover as observed by satellite. High clouds and clouds with vertical development are displayed in white, low clouds and fog in grey. The location marker is placed on Washington D.C.. Low clouds and fog are difficult to detect during nighttime.
NOAA Satellites GOES-East/West / Copyright 2017 meteoblue
Weather for popular places around Washington D.C.
Radar and precipitation nowcast for Washington D.C.
The location marker is placed on Washington D.C.. This animation shows the precipitation radar for the last hour, as well as a 1h forecast. Drizzle or light snow fall might be invisible for the radar. Precipitation intensity is colour coded, ranging from light blue to heavy purple.
Current weather situation and warnings
Temperatures & pictograms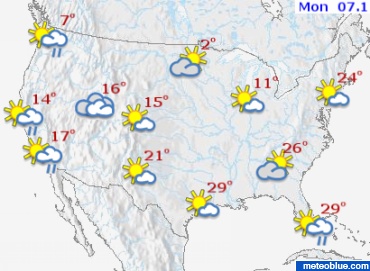 Cloud development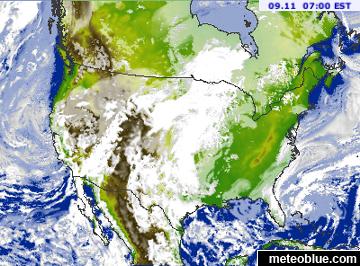 Surrounding weather stations