31°

30°

30°

32°

32°

31°

31°

31°

24°

23°

22°

22°

21°

20°

17°

13°

3-6

4-9

6-14

9-15

11-18

11-20

16-27

23-38

-

-

-

-

-

-

0.04

0.14

Precipitation probability

0%

0%

0%

0%

0%

0%

30%

100%

2:00 to 3:00:
0% chance of precipitation in the area.
0" are predicted by our local models.

3:00 to 4:00:
0% chance of precipitation in the area.
0" are predicted by our local models.

4:00 to 5:00:
0% chance of precipitation in the area.
0" are predicted by our local models.

5:00 to 6:00:
0% chance of precipitation in the area.
0" are predicted by our local models.

6:00 to 7:00:
0% chance of precipitation in the area.
0" are predicted by our local models.

7:00 to 8:00:
0% chance of precipitation in the area.
0" are predicted by our local models.

8:00 to 9:00:
0% chance of precipitation in the area.
0" are predicted by our local models.

9:00 to 10:00:
0% chance of precipitation in the area.
0" are predicted by our local models.

10:00 to 11:00:
0% chance of precipitation in the area.
0" are predicted by our local models.

11:00 to 12:00:
0% chance of precipitation in the area.
0" are predicted by our local models.

12:00 to 13:00:
0% chance of precipitation in the area.
0" are predicted by our local models.

13:00 to 14:00:
0% chance of precipitation in the area.
0" are predicted by our local models.

14:00 to 15:00:
0% chance of precipitation in the area.
0" are predicted by our local models.

15:00 to 16:00:
0% chance of precipitation in the area.
0" are predicted by our local models.

16:00 to 17:00:
0% chance of precipitation in the area.
0" are predicted by our local models.

17:00 to 18:00:
0% chance of precipitation in the area.
0" are predicted by our local models.

18:00 to 19:00:
0% chance of precipitation in the area.
0" are predicted by our local models.

19:00 to 20:00:
30% chance of precipitation in the area.
0.04" are predicted by our local models.

20:00 to 21:00:
50% chance of precipitation in the area.
0.04" are predicted by our local models.

21:00 to 22:00:
90% chance of precipitation in the area.
0.03" are predicted by our local models.

22:00 to 23:00:
100% chance of precipitation in the area.
0.07" are predicted by our local models.

rainSPOT

Precipitation distribution within 15 km
Pressure: 1020 hpa
Timezone: CET
Domain: NEMS4
Last model run: 2018-12-15 08:52
Weather warnings for Province du Hainaut
Snow Potentially dangerous
From 2018-12-15 18:00 to 2018-12-16 02:59
nederlands: Winterse neerslag :
Vanavond en vannacht trekt een storing van west naar oost over het land met eerst smeltende sneeuw of sneeuw, later overgaand in regen. In de Ardennen valt er eerst sneeuw, later mogelijk aanvriezende regen.

Er kan een sneeuwdek gevormd worden:
-tussen 0 en 1 cm in de provincies West Vlaanderen, Oost Vlaanderen, Antwerpen, Henegouwen, en Brabant;-tussen 0 en 4 cm in de provincies Namen en Limburg;
-tussen 2 en 10 cm in de provincies Luik en Luxemburg.

français: Precipitations hivernales :
Ce soir et cette nuit, une perturbation traversera le pays d'ouest en est avec, dans un premier temps, de la neige fondante ou de la neige, se transformant en pluie. En Ardenne, il s'agira d'abord de neige puis d'un risque de pluies verglacantes.Cumul de neige possible:
-entre 0 et 1 cm dans les provinces de Flandre Occidentale, de Flandre Orientale, d'Anvers, du Hainaut et du Brabant;
-entre 0 et 4 cm dans les provinces de Namur et du Limbourg;
-entre 2 et 10 cm dans les provinces de Liege et Luxembourg.
Satellite cloud cover (past 2 hours)
Precipitation:
<0.04"
0.04-0.08"
0.08-0.20"
>0.20"
The location marker is placed on Buzet.
This animation shows the cloud cover as observed by satellite. High clouds and clouds with vertical development are displayed in white, low clouds and fog in grey. This map uses infrared satellite telemetry to calculate the temperature of the clouds. Low clouds and fog are difficult to distinguish from ground temperatures and might therefore be inaccurate.
Precipitation is estimated from radar and satellites. At night precipitation estimates from satellites are less accurate than during daytime. Orange crosses mark places where lightning was detected (over Europe).
Copyright 2018 EUMETSAT / meteoblue. Lightning data provided by nowcast.
Radar and precipitation nowcast for Buzet
The location marker is placed on Buzet. This animation shows the precipitation radar with a delay of 1 hour. Drizzle or light snow fall might be invisible for the radar. Precipitation intensity is colour coded, ranging from light blue to heavy purple.
1.6" precipitation in Buzet at 19:30-20:45.
Precipitation radar with lightning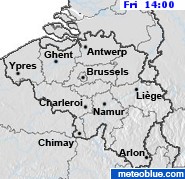 Local short-term precipitation forecast:
1.6" precipitation in Buzet at 19:30-20:45.
The animation shows the distribution of precipitation for the next hour. Lightning of the past half hour is displayed as red crosses. Buzet is located in the center.
Lightning data provided by nowcast.
Meteogram - 5 days - Buzet
Our 5-day meteogram for Buzet offers all weather information in 3 simple graphs:
Temperature chart with weather pictograms. The time from sunrise to sunset is indicated in light yellow.
Clouds in different altitudes: from few clouds (light grey) to overcast (dark grey). Dark blue bars show hourly precipitation and light blue showers. An asterisk indicates snow fall.
Forecasts for wind speeds are blue and for gusts are green. The arrowheads point in the same direction as the wind.
meteoblue maps - Wind