42°

40°

37°

42°

45°

42°

43°

43°

34°

32°

30°

36°

39°

36°

36°

38°

10-22

9-18

7-17

6-15

7-13

7-15

7-15

5-12

-

-

-

-

-

-

-

0.10

Precipitation probability

0%

10%

0%

0%

0%

0%

70%

90%

2:00 to 3:00:
0% chance of precipitation in the area.
0" are predicted by our local models.

3:00 to 4:00:
0% chance of precipitation in the area.
0" are predicted by our local models.

4:00 to 5:00:
10% chance of precipitation in the area.
0" are predicted by our local models.

5:00 to 6:00:
10% chance of precipitation in the area.
0" are predicted by our local models.

6:00 to 7:00:
10% chance of precipitation in the area.
0" are predicted by our local models.

7:00 to 8:00:
0% chance of precipitation in the area.
0" are predicted by our local models.

8:00 to 9:00:
0% chance of precipitation in the area.
0" are predicted by our local models.

9:00 to 10:00:
0% chance of precipitation in the area.
0" are predicted by our local models.

10:00 to 11:00:
0% chance of precipitation in the area.
0" are predicted by our local models.

11:00 to 12:00:
0% chance of precipitation in the area.
0" are predicted by our local models.

12:00 to 13:00:
0% chance of precipitation in the area.
0" are predicted by our local models.

13:00 to 14:00:
0% chance of precipitation in the area.
0" are predicted by our local models.

14:00 to 15:00:
0% chance of precipitation in the area.
0" are predicted by our local models.

15:00 to 16:00:
0% chance of precipitation in the area.
0" are predicted by our local models.

16:00 to 17:00:
0% chance of precipitation in the area.
0" are predicted by our local models.

17:00 to 18:00:
0% chance of precipitation in the area.
0" are predicted by our local models.

18:00 to 19:00:
30% chance of precipitation in the area.
0" are predicted by our local models.

19:00 to 20:00:
70% chance of precipitation in the area.
0" are predicted by our local models.

20:00 to 21:00:
90% chance of precipitation in the area.
0.05" are predicted by our local models.

21:00 to 22:00:
90% chance of precipitation in the area.
0.04" are predicted by our local models.

22:00 to 23:00:
90% chance of precipitation in the area.
0" are predicted by our local models.

rainSPOT

Precipitation distribution within 15 km
Pressure: 1006 hpa
Timezone: GMT
Domain: NEMS4
Last model run: 2018-12-16 07:26
Weather warnings for East of England
Snow Potentially dangerous
From 2018-12-15 10:00 to 2018-12-16 10:00
Periods of freezing rain, with snow in Scotland later, leading to some dangerous travelling conditions. Possible travel delays on roads stranding some vehicles and passengers. Possible delays or cancellations to rail and air travel. Some rural communities could become cut off. Power cuts may occur and other services, such as mobile phone coverage, may be affected. A chance of injuries from slips and falls on icy surfaces. Bus and train services may be delayed or cancelled, with some road closures and longer journey times possible. Untreated pavements and cycle paths might be impassable because of black icehone coverage, may be affected.
Satellite cloud cover (past 2 hours)
Precipitation:
<0.04"
0.04-0.08"
0.08-0.20"
>0.20"
The location marker is placed on Eversholt.
This animation shows the cloud cover as observed by satellite. High clouds and clouds with vertical development are displayed in white, low clouds and fog in grey. This map uses infrared satellite telemetry to calculate the temperature of the clouds. Low clouds and fog are difficult to distinguish from ground temperatures and might therefore be inaccurate.
Precipitation is estimated from radar and satellites. At night precipitation estimates from satellites are less accurate than during daytime. Orange crosses mark places where lightning was detected (over Europe).
Copyright 2018 EUMETSAT / meteoblue. Lightning data provided by nowcast.
Radar and precipitation nowcast for Eversholt
The location marker is placed on Eversholt. This animation shows the precipitation radar for the last hour. Drizzle or light snow fall might be invisible for the radar. Precipitation intensity is colour coded, ranging from light blue to heavy purple.
Contains public sector information licensed under the Open Government Licence.
0" precipitation in Eversholt at 08:15-09:30.
Precipitation radar with lightning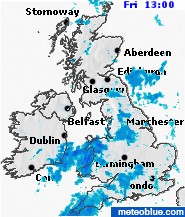 Local short-term precipitation forecast:
0" precipitation in Eversholt at 08:15-09:30.
The animation shows the distribution of precipitation for the next hour. Lightning of the past half hour is displayed as red crosses. Eversholt is located in the center.
Lightning data provided by nowcast.
Meteogram - 5 days - Eversholt
Our 5-day meteogram for Eversholt offers all weather information in 3 simple graphs:
Temperature chart with weather pictograms. The time from sunrise to sunset is indicated in light yellow.
Clouds in different altitudes: from few clouds (light grey) to overcast (dark grey). Dark blue bars show hourly precipitation and light blue showers. An asterisk indicates snow fall.
Forecasts for wind speeds are blue and for gusts are green. The arrowheads point in the same direction as the wind.
meteoblue maps - Wind
Weather for popular places around Eversholt