Icon

59°

56°

56°

60°

60°

60°

60°

58°

Temperature felt (°F)

61°

57°

49°

54°

52°

49°

50°

47°

2-7

3-4

11-15

11-14

14-21

19-27

19-30

17-28

Precipitation (mm/3h)

6

1

3

-

-

-

-

-

Precipitation Probability

94%

88%

69%

49%

41%

38%

38%

18%

rainSPOT

Precipitation distribution within 15 km
Precipitation radar with lightning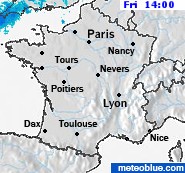 Local short-term precipitation forecast:
1.3 mm precipitation in Roquebrun at 00:30-01:45
The animation shows the distribution of precipitation for the next hour. Lightning of the past half hour is displayed as red crosses. Roquebrun is located in the center.
Satellite cloud cover (past 2 hours)
Current weather situation and warnings
Temperatures & pictograms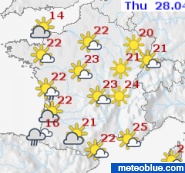 Cloud development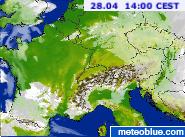 Time delays between this website and the www.meteoalarm.eu website are possible, for the most up to date information about alert levels as published by the participating National Meteorological Services please use www.meteoalarm.eu.