Weather warnings for Haute Savoie
Thunderstorm Dangerous
From 2018-07-20 21:01 to 2018-07-21 15:00
français: De fortes précipitations susceptibles d'affecter les activités humaines sont attendues., Des inondations importantes sont possibles dans les zones habituellement inondables, sur l'ensemble des bassins hydrologiques des départements concernés., Des cumuls importants de précipitation sur de courtes durées, peuvent, localement, provoquer des crues inhabituelles de ruisseaux et fossés., Risque de débordement des réseaux d'assainissement., Les conditions de circulation routière peuvent être rendues difficiles sur l'ensemble du réseau secondaire et quelques perturbations peuvent affecter les transports ferroviaires en dehors du réseau grandes lignes., Des coupures d'électricité peuvent se produire. Renseignez-vous avant d'entreprendre vos déplacements et soyez très prudents. Respectez, en particulier, les déviations mises en place., Ne vous engagez en aucun cas, à pied ou en voiture, sur une voie immergée., Dans les zones habituellement inondables, mettez en sécurité vos biens susceptibles d'être endommagés et surveillez la montée des eaux.
english: Heavy rainfall may affect human activities, Extensive flooding is possible in the flood-prone areas on all the watersheds of the impacted departments. , Significant accumulations of precipitation over short durations, can locally produce unusual flooding of streams and ditches., Sewerage networks may overflow., Traffic conditions may be hampered throughout the secondary network and some disturbances may affect rail transport , Power outages may occur. Be informed before travelling or moving and take extra care. Observe traffic diversions., Do not in any case, walk or drive on a submerged road., In flood prone areas, secure your belongings and watch for rising waters.
Satellite cloud cover (past 2 hours)
Precipitation:
<0.04"
0.04-0.08"
0.08-0.20"
>0.20"
The location marker is placed on Chamonix.
This animation shows the cloud cover as observed by satellite. High clouds and clouds with vertical development are displayed in white, low clouds and fog in grey. This map uses infrared satellite telemetry to calculate the temperature of the clouds. Low clouds and fog are difficult to distinguish from ground temperatures and might therefore be inaccurate.
Precipitation is estimated from radar and satellites. At night precipitation estimates from satellites are less accurate than during daytime. Orange crosses mark places where lightning was detected (over Europe).
Copyright 2018 EUMETSAT / meteoblue. Lightning data provided by nowcast.
Radar and precipitation nowcast for Chamonix
The location marker is placed on Chamonix. This animation shows the precipitation radar with a delay of 1 hour. Drizzle or light snow fall might be invisible for the radar. Precipitation intensity is colour coded, ranging from light blue to heavy purple.
0.8" precipitation in Chamonix at 02:15-03:30.
Precipitation radar with lightning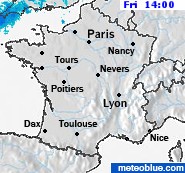 Local short-term precipitation forecast:
0.8" precipitation in Chamonix at 02:15-03:30.
The animation shows the distribution of precipitation for the next hour. Lightning of the past half hour is displayed as red crosses. Chamonix is located in the center.
Lightning data provided by nowcast.
Meteogram - 5 days - Chamonix
Our 5-day meteogram for Chamonix offers all weather information in 3 simple graphs:
Temperature chart with weather pictograms. The time from sunrise to sunset is indicated in light yellow.
Clouds in different altitudes: from few clouds (light grey) to overcast (dark grey). Dark blue bars show hourly precipitation and light blue showers. An asterisk indicates snow fall.
Forecasts for wind speeds are blue and for gusts are green. The arrowheads point in the same direction as the wind.
meteoblue maps - Wind