history+
Hourly historical weather simulation data since 1985
history+ offers immediate access to the meteoblue global weather simulation archive. Download weather variables, such as temperature, wind, cloud cover, precipitation and many others in hourly resolution as CSV. Any place worldwide is available in hourly intervals without gaps since 1985.
Features
30 years historical data
history+ offers consistent weather simulation data in hourly resolution since 1985. Archived weather simulations are assembled to continuous time series. Historical data are the first step to correlate past events and optimize your current and future business.
Worldwide availability
All weather variables are available for any place on Earth and on different altitude levels, independent of measurement stations. We calculate global weather models as well as local high resolution models for Europe, North and South America, Africa, Oceania and most parts of Asia.
High precision
Intensive verification and validation improves our weather models beyond the quality and availability of historic weather measurements. history+ combines convenience and unmatched accuracy to support your daily business decisions.
Unlimited data downloads for 1 year
All data can be download for the selected locations for a period of more than 30 years. Access remains active for 1 year after purchase and includes daily updates.
100% complete without gaps
history+ offers 100% complete time series, with no missing data. All time series are consistent and gap-free, whereas measurements are often not available for the selected place, or unavailable for days or may contain invalid data. Analysis with insufficient data makes results questionable and massively increases the processing effort.
Multiple formats
Data can be interactively analysed on the web, and also downloaded as CSV files. Common evaluations such as year comparison, GDD calculation, frequency analysis or wind roses are built-in. Downloaded CSV files can easily be imported into other professional applications.
Available right away
Easily download consistent historical data
All data can be downloaded as CSV files and further processed with programs like Microsoft® Excel or OpenOffice. You can download entire 30 year time series in hourly resolution with various parameters like temperature, precipitation, clouds or wind.
Data are available worldwide without any gaps. Our weather simulations are independent of single stations and possible outages.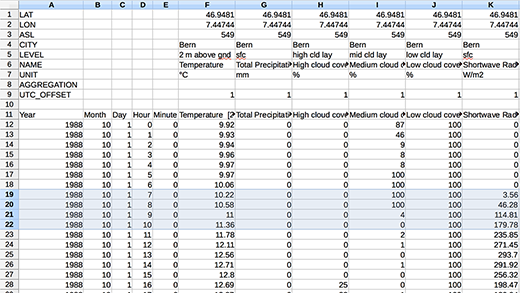 Interactive interface to analyse data
Our database is packed with hundreds of TB of weather data and right at your disposition. Interactive graphs allow immediate access to continuous time series for your locations or various coordinates. You do not have to wait a couple of days for a 30 year temperature series: It is there in a second.
You can compare multiple locations and detect weather differences that could impact or benefit your business. Gain valuable insights to prepare for typical weather conditions as well as for uncommon extremes.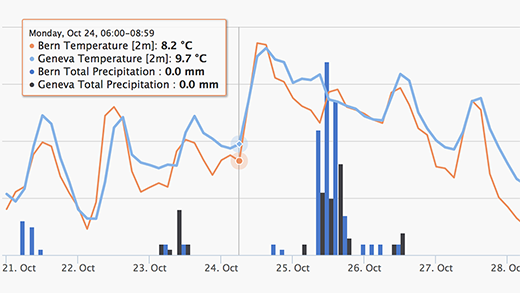 Compare multiple years
Visualize several seasons with accumulated precipitation or growing degree days (GDD) in one graph. See how a wet or rather hot season may affect plant development, calculate a heating sum to predict how much energy is required during winters or estimate weather conditions for a single week to plan events.
All information is available immediately after purchase and can be displayed interactively.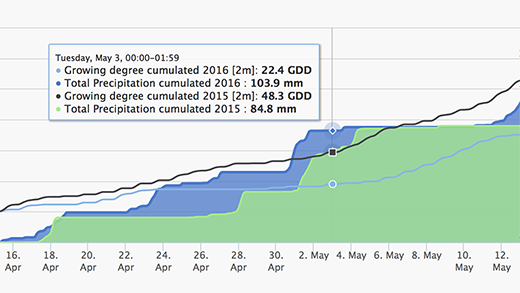 Frequency analysis histogram and wind rose
In addition, history+ includes online analysis tools for frequency patterns and wind roses. Our tools are highly customizable to fit your specific needs and to save valuable time.
Wind speed frequencies for wind power generation are calculated for any coordinates on land or sea. Wind roses classify wind directions and speeds, e.g. to further evaluate potential wind park sites and improve power generation efficiency. Temperature and precipitation frequencies help understand business threatening conditions like frost or intense precipitation.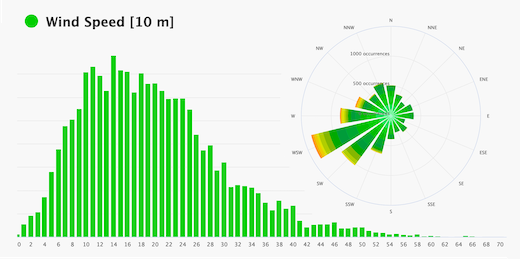 Included weather variables
Temperature
2 m above ground
Relative humidity
2 m above ground
Precipitation amount
mm/m2
Total cloud cover
in percent
Low, mid and high cloud cover
in percent
Wind speed and direction (10 m)
km/h, m/s, bft, kn, mph
Wind speed and direction (80 m)
km/h, m/s, bft, kn, mph
Wind speed and direction (900 hPa)
km/h, m/s, bft, kn, mph
Wind gust
10 m above ground
history+ includes common weather variables. Other variables are available on request.
Try for free
You can test history+ without a subscription and explore the endless possibilities of historical weather data. The free test is limited to Basel, Switzerland. For other locations, data for the last 2 weeks are available and can be selected with our location search on the top of the page.
Price and Order
How many locations do you need? At this point, you only buy an access contingent for a number of locations, without deciding which ones. Your desired locations or coordinates can be activated afterwards in the data download interface. history+ access remains active for 1 year, starting at the purchase date. You can buy more locations at any later time as well.
0 % VAT included in all prices
1 location
One-time payment, 30 years data
Purchase
10% off
3 locations
One-time payment, 30 years data
Purchase
20% off
5 locations
One-time payment, 30 years data
Purchase
30% off
10 locations
One-time payment, 30 years data
Purchase
VAT will be deducted for EU business customers with a valid VATIN. The identification number is required and will be automatically validated against the EU database before purchase. All services are associated with your meteoblue account, which will be created in the ordering process. Upon payment confirmation, you receive an invoice as PDF with the indicated VAT amount. Invoices can also be downloaded from your meteoblue account overview.
The payment is handled by Datatrans, a PCI-DSS certified payment service provider for more security in payment transactions. Your credit card information is transmitted using data encryption, only used for one transaction and not stored. The security of your data is very important for us. Payment options include Paypal, Visa, Mastercard and Swiss Postfinance.
About simulation data
What you get
history+ offers historical weather simulation data, with a spatial resolution between 4 and 30 km, not measurement data. Starting in 1985, the historical weather data are available in hourly steps or daily aggregations with a spatial resolution of 30 km, whereas higher resolution data are available since 2008 for nearly every place on Earth. These data are fully complete and without any gaps. Our worldwide data availability and completeness are unique.
Extensive verifications of our weather models are regularly conducted and thereby, top data quality is ensured.
Simulation data are especially suitable for assessing weather for areas and regions over longer time periods, whereas measurement data are used to record specific local conditions or extreme weather events. Therefore, not all insurances accept weather simulation data as evidence.
Limitations
Resolution: The data have a resolution of 4 to 30 km, depending on location and time. Therefore, local micro-climates in narrow valleys or on mountain tops cannot be captured accurately. However, even for those locations you can analyze trends over the years, seasons, months, weeks or even day to day changes quite well, but be aware that there might be biases in the absolute values.
Extreme events: If you want to know if on the 22nd of February 1992, there was a local thunderstorm with 100 mm of rain and winds over 80 km/h, this will not be possible! Simulation data cannot capture the exact timing and intensities of isolated extreme weather events. For this, you would need to find a weather station, but it would have to be at the exact spot, not 10 km away.